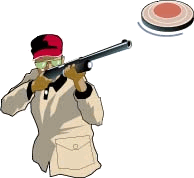 Trap shoot August 2nd and August 16th, at noon. With the cooler temps expected, the weather looks very nice for the 2nd. Hope to see you there for a good time shooting.
Club facilities will be closed August 9th at 9am for maintenance.  Please consider stopping in and helping out.
Next meeting is August 19th at 7pm.